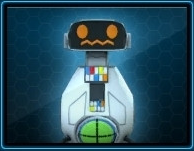 Background
H.E.R.B.I.E. was created by Mister Fantastic and Master Xar of the Xandarians, who hoped that the robot could aid their search for Galactus, who they sought for aid in defeating the villain known as the Sphinx.
What neither of the creators realized, however, was that Doctor Sun, an enemy of Master Xar who had his consciousness trapped within Xandarian computers, was able to escape by jumping from the computer to H.E.R.B.I.E.'s body. The little robot was his sleeper agent, whom he could control whenever he wished. Although an alien pirate mysteriously died in H.E.R.B.I.E.'s presence, and the villain Blastaar suddenly escaped from the Negative Zone, nobody suspected that H.E.R.B.I.E. was responsible.
Pet Effects
Calls H.E.R.B.I.E. pet to your side. Right-click to call or dismiss your pet. Calling one pet dismisses any other pet in play.
Level Requirement
Item Price
Sell Price
Gallery